The Community Foundation Northern Ireland has today allocated £7.95m in funding from the Department of Health to support the community here in response to the Coronavirus pandemic through the Cancer Charities' Support Fund. A number of the 14 projects funded are already underway or starting later this year. The funds were announced by Health Minister Robin Swann in May as part of a £24m funding package to support carers, cancer, and mental health organisations.
The Cancer Charities' Support Fund opened for applications of between £30,000 and £1m and will provide support grants to 14 projects. The funding will support prevention through awareness raising, further develop palliative care, and enhance the provision of support for cancer patients and their families.
Welcoming the initial grant payments to cancer charities, amounting to £7.95m, the Minister said:
"I know this funding will make a real difference to the lives of people living with cancer, and their families. Cancer charities across Northern Ireland provide vital services to so many people and I understand the very serious impact that the pandemic had had on their ability to sustain and expand services.
"Alongside the current public consultation on the ten-year Cancer Strategy, launched earlier this week, and my Department's cancer recovery plan, there is a renewed focus on ensuring that everyone in Northern Ireland has equitable and timely access to the most effective, evidence-based referral, diagnosis, treatment, support and person centred cancer care."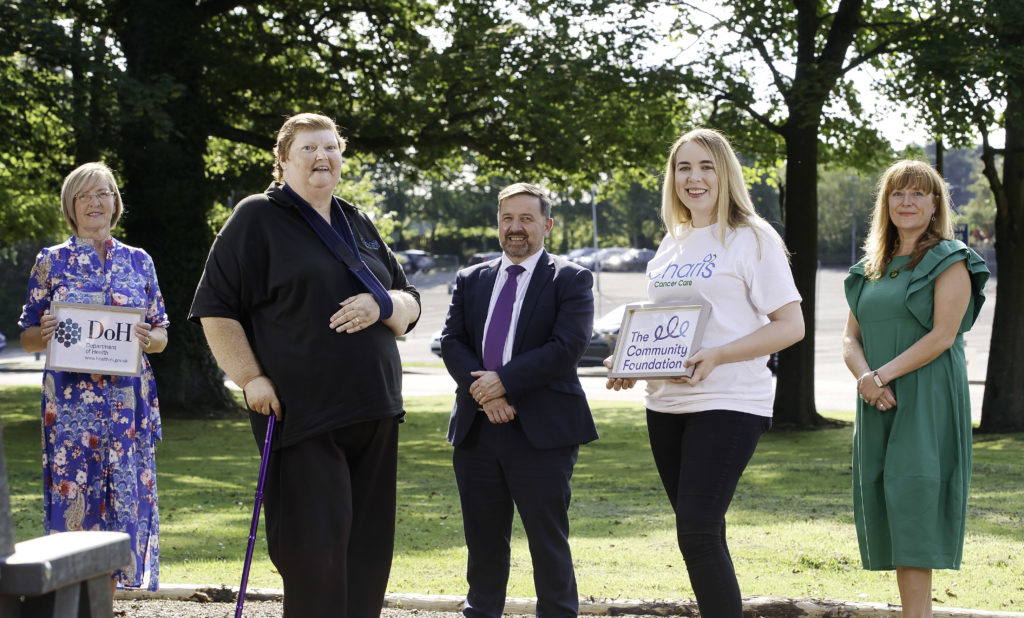 Commenting on the success of the funds, Community Foundation Chief Executive, Roisin Wood said:
"The Community Foundation is delighted with the phenomenal response to these important funds, which will provide £7.95 million to organisations supporting people with cancer here. The funds will be available for three years, thereby making an impact over a longer period of time, which we know will create a meaningful difference in the lives of many. Smaller grants across the Cancer Charities' Support Fund will open in September, and applications can be
made online.
Not surprising in the current climate, we were heavily oversubscribed with applications and the projects seeking support clearly highlight the need for this fund and more support for carers and people with cancer. In total 75% of those who applied have received funding. However, we realise some projects will be disappointed today, and we would encourage them to bid when the next rounds of funding open next month, and to really think about how they
undertake their applications to ensure they meet the stringent criteria for funding."
Simon Darby, from Young Lives vs Cancer (formerly CLIC Sargent), who was awarded monies from the fund added:
"This is wonderful news for us to have received this support locally to deliver a new digital resilience tool for young people on cancer treatment, as well as expand our award-winning exercise programme to other CrossFit gyms across Northern Ireland. The monies over the next two years, will enable us as a charity to continue to reduce the impact of cancer on the lives of children, young people and their families."
Imelda McGucken, MBE Charis Cancer Care Centre Director said:
"Through this funding, we will be able to offer our counselling, aromatherapy, massage, reflexology and a range of mindfulness and meditation sessions as well as group yoga to clients. Our services are available to any adult at any stage of their cancer journey via a personal or loved one's diagnosis completely free of charge."
In addition, new funding applications for the next round of support from the Cancer Charities' Support Fund of £5,000 to £30,000, will open next month. Interested organisations who wish to apply can access applications and criteria via the Community Foundation website from September.
A full list of successful organisations can be viewed here.